It's Tuesday!! And, its been a while since I have posted a teaser – and with Crown of Cinders very quickly nearing completion – it's better late than never.
So, without further display – let's get to it!
The following is from Crown of Cinders, due out later this year (date to be released), everything is copyright 2016 Rebecca Ethington and Market Street Books. All unedited, and subject to change.
Enjoy!
Jaromir

Stuck in a trap, I lay in bunk, staring into the black noting, knowing I should be asleep – but being unable to do so.

The loud cadence of Mira's breathing filled the dark like a song, some haunting thing that sound more like a ghost than a human.

Her breathing drowned out the sound of the guard that Ryland had left to watch us. I would have forgotten he was there if not for the commands Ryland had left behind. He had practically yelled them, after all – as if we needed reminding.

Don't let us leave.

Make sure we sleep.

We can't leave the bunks.

Even repeating them to myself sent me into a panic, almost as if I could sense what was coming. I just wish I could follow them.

I wish I could sleep.

I wish I could just ignore everything.

Ignore what I had done. Even though I hadn't technically done it yet.

"Jaromir," she hissed, my heart falling to my toes.

So much for not having done it yet.

"Do you remember Uncle Yagi?" Her voice was soft as it broke through the dark, the knot in my stomach loosening as the familiar sweet in her voice continued, "Do you remember when we went to go visit him in Russia that last time, before he died?"

The knot was back to the same tense ball of fear, of all the memories she would have picked.

"Yes…" I wasn't sure I liked where this was going.

Uncle Yagi had cancer, a really scary one, even though I don't know what kind. He had everyone come visit him… and then he did something. Something bad. I wasn't sure I wanted to talk about it right now.

Especially in the dark.

"Do you remember how he was when we first got there, how mom thought he was dead?" I really didn't like where this was going, I could only nod. One sharp head nod as I tried to swallow past the tight constriction in my throat. "He didn't move, and his skin was so pale. His lips were blue."

I could barely breathe, let alone talk, but I tried anyway. "What are you talking about Mira?"

"I saw someone that looked like that last night."

"You saw a dead man?" This time she looked at me.

"Yes, but he was in a bed, just like all the others. Dead and sad. Like they are trying to keep him alive, his hair cords like the wires that ran to Uncle Yogi's chest."

I knew at once who she was talking about, and I swallowed, the movement painful thanks to my still constricted throat.

"How did you find him?" I hadn't even seen him, even though I knew where he was. I knew who he was. I knew everything about this place. Like how you weren't allowed to go over there. "That's off limits."

The light in her eyes dimmed as her smirk killed the glow, the lest shred of familiarity of my sister vanishing. "I was just walking around, Jaromir." She waved her hand to the side. "I need to go there again. I need to give him something. I need you to take me.."
Hope you enjoyed it! Also, if you haven't heard – Imdalind is on sale! Now is the perfect time to catch up, or get someone you know addicted!
There are only a few days left – so go grab them!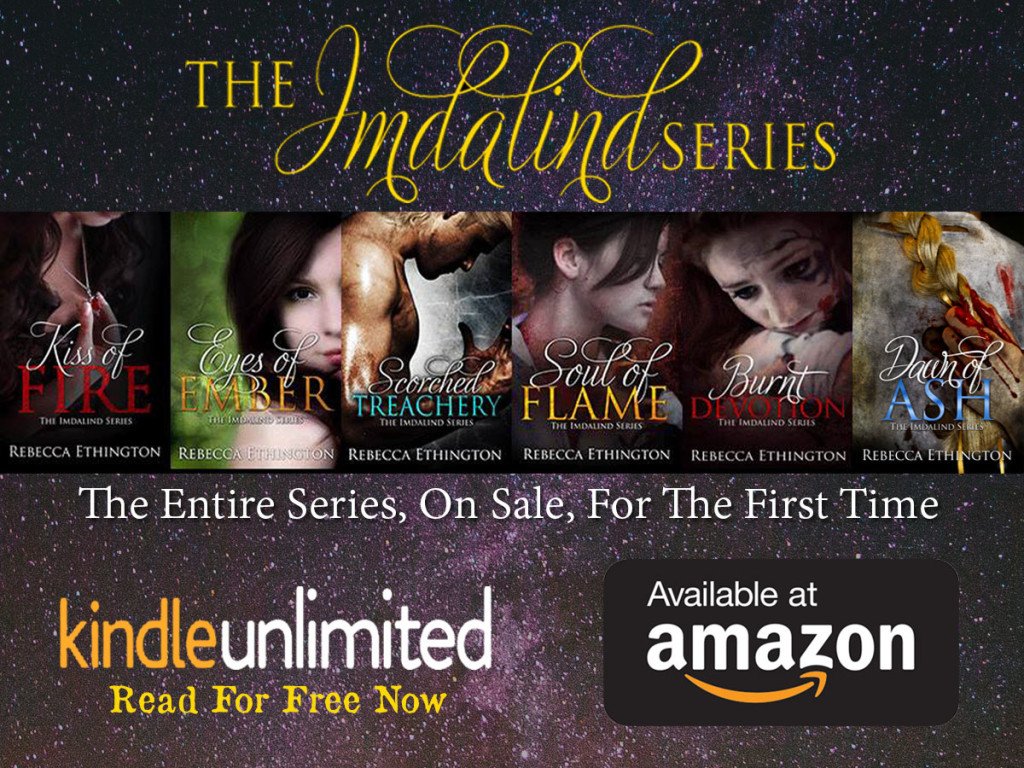 Kiss Of Fire | Eyes of Ember | Scorched Treachery