Hello everyone! My name is Rebecca Ethington – and welcome to my blog! Don't mind the dust everything here is under a little bit of construction… but I guarantee it will all be pretty real soon.
So, wipe the dust off of a seat and make yourself at home, and welcome to my little stop on the daring hearts blog hop!
Woot! Woot!
In case you haven't heard of me before I write Young Adult fiction,  mainly fantasy and paranormal – but I've been known to hop around a bit! You may have seen my Imdalind series around, but for this box set, my readers, as well as any new ones, are getting the next episode of the Through Glass (#9) novella series a whole month before it will be released on it's own!
And trust me, after you read #8 (due out this July 10th) you aren't going to want to wait.
So, make sure you pick up your copy of Daring Hearts and not only will you get #9 early, but a whole bunch of other, very awesome, new releases as well.
You don't want to miss it, so make sure to preorder now for only 99C!
If you haven't started Through Glass yet- now is the perfect time! The first three episodes are free on all platforms. Go get 'em and make sure to read them all before Daring Hearts come out and Through Glass #9 is available!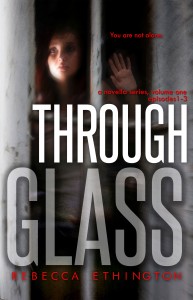 Everyone remembered the day the sky went black. The day the sun was wiped from the sky. They remember the wind as it brought in the darkness; the way the earth shook and everything changed.
Everyone remembered the screams as the darkness ate those who were out in the open, those who had surrounded themselves by light, and those who made noise.
Everyone remembered the voice from the sky and the way food disappeared.
At least, that's what I hoped. I hoped that there was an 'everyone' that would remember because I am not sure how many are left, how many survived. Or if anyone did.
I hoped that I wasn't alone.
I remembered that day.
I remembered because it was the day I became alone.
It was the day that everything was perfect until the monsters took it away. Then the house went silent and the birds stopped singing. It was the day when everyone disappeared, everyone except the boy, the only person I have seen in two years.
The boy I talk to through the glass.
To celebrate the coming release of Daring Hearts, the authors; RaShelle Workman, Christine Kersey, Lila Felix, Elle Strauss, Cindy Hogan, Julie Alexander, and Rebecca Ethington, we are offering two grand prizes: a Kindle White and a Kindle Fire, plus each author has their own special giveaway today – so make sure to visit everyone! To enter, simply fill out this rafflecopter giveaway. The more times you enter, the more chances you have to win. Good luck everyone!!
Rules
Open internationally 
• If you win, you must claim your prize within 48 hours or the prize will be re-drawn
• You must be 16 years or older, or have the permission of a guardian to enter
• Only entries submitted through the rafllecopter will qualify as an entry.
• No purchase necessary. Bloggers, please feel free to copy and paste this post for your own blog! 
In addition to the great prizes above, each blog is offering an individual prize of your choice. So make sure to go through every stop in the hop. From here make sure to the next stop in the blog tour, 
Amber Argyle
.
Have fun everyone and make sure to pre-order your copy of the Box Set!