So last December when everything was going crazy and I had to push back Soul of Flame and the world was imploding (I'm probably exaggerating, but lets go on) I made the decision to break Through Glass up into Novellas and release them much like the serials of old.
This was a hard decision and I really stewed over it for quite a while until it became clear that I needed to. It got to the point that the reasons to split it up where far outweighing the reasons not to. With the weights and deadlines being placed on me by possible contracts and agents and all sort of trouble it became clear I wouldn't have the time to really devote to it. Now, before you all start raising your pitchforks thinking that I am going to be releasing product that is far below my usual standard.
STOP.
Because I don't play that game.
In fact Episode Four of Through Glass took me two weeks to write and edit before I sent it to my editor – so obviously my perfectionist standards are still intact.
Which begs the question – if you are taking so long to write the episode than why release them as 'episodes' or Novellas?
Well that brings me to reason number 2 that I made the decision to change the format of the series.
This series really doesn't lend itself to a traditional series set up.
I sat down in November, ready to start working on the next Through Glass book, and began plotting. Five days later I had finished plotting out the entire series and I couldn't find a clear breakdown for each book. It was just one long story.
I am sure you noticed that I have a tendency to do that.
It's really not my fault. And what is worse, I am REALLY bad at deciding when to end a book, and thinking I wrapped everything up in a nice little bow only to have really just made a MASSIVE cliff hanger. Such is the way with the first Through Glass volume.
But when I was looking at the plotting I began to realize a theme within my overall plot for Through Glass.
The whole things plays out like a TV show or a comic book… excuse me – graphic novel.
A big 'ol plot with ups and downs and cliffhangers and mystery and bad guys and good guys. In fact if I knew an amazing artist I would probably give it some kick butt images…
As of right now I have broken down my big ol plot into episodes, and I have 30… so far… I still have more plot to break down, and as always I am sure things will change.
I know there is still a TON of confusion about what is going on with through Glass and how the original books fits into the novellas and visa versa. I haven't really been secretive with it – but I know with algorithms and how social media works sometimes things don't get seen or explained properly… so I have an image…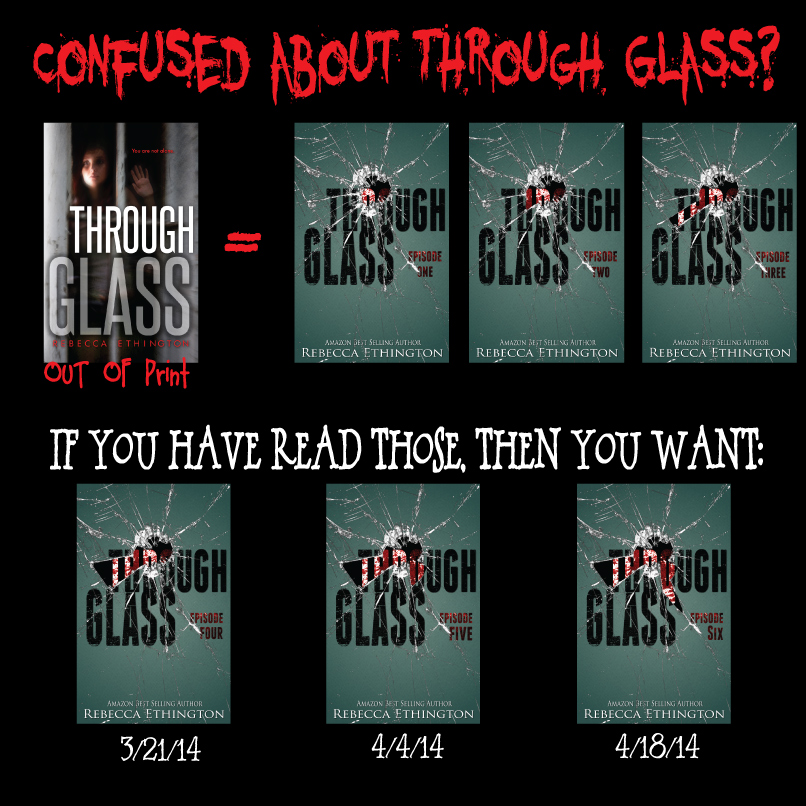 Each Episode is about 20-25 thousand words which means that for every three and a half episodes you are reading a full size novel (The original Through Glass Novel was only 88k). Which means the whole thing is about 8 full sized novels.
Wowza.
Now is about the time I start hearing the usual complaint.
"Serials are just an author money grab."
I am going to address this and I am going to try REALLY HARD not to type in all caps or get snarky. But honestly, this mind set infuriates me.
First – some math. I said earlier that one full size novel equates to a little over 3 of the Through Glass novellas.
I will be charging .99cents for each novella… so three novellas equals… 2.97.. and a little extra for the 'half' and you get 3.45… I am confused… how is this a money grab? 3.45 is less than a latte – less than a value meal – heck – its less than buying SHOE LACES. And it's a book. A book that cost more to produce than the aglet on the end of lace (Thanks Phineas and Ferb for imprinting that dumb word in my brain). A book that spent months to make, and cost blood sweat and tears… How is charging the same (or less) money for three novellas as I would for one full length novel being greedy. In fact – how is charging 3.99 for one novel being greedy… which brings us to our next point.
My time.
I also said earlier that it took me two weeks to write the first Through Glass Novella… 2 weeks… and it's a money grab to charge .99cents for that?
I am really confused.
I am confused because authors for some reason are expected to give our hard work away, expected to write fast, expected to take the bullies without complain.
It's really not conducive to a creative atmosphere.
Besides, novellas are NOT a new idea, so I am not sure why it is suddenly so taboo.
Wait? They are not a new idea…?
NO
Serial publication has been around forever – and was first really set in stone by an author by the of Charles Dickens… that's right THE CHARLES DICKENS. He wrote serials… quite a few in fact. And you know what's even crazier? He wasn't the only one..
Let's look at some of the books that were ORIGINALLY published in serial form:
Charles Dickens – The Pickwick Papers
Alexandre Dumas – The Three Musketeers
Alexandre Dumas – The Count of Monte Cristo
Harriet Beecher Stowe – Uncle Tom's Cabin
Leo Tolstoy – Anna Karenina
Wilkie Collins – The Moonstone
Sir Arthur Conan Doyle – The Sherlock Holmes Stories
Stephen King – The Plant
Orson Scott Card – Hot Sleep (this one is cheating because it wasn't originally released in serial, but I am going to keep it in there)
The list is huge – and the names are massive. These are classics my friends, classics that I am sure were required reading in many a high school English class. You see, serialized novels are nothing new. And waiting long periods of time for stories to complete themselves, or for the next 'episode' to come out if not new either. Ann Karenina for example took over five years for all of the episodes to release. FIVE YEARS. And some of those were with months in between each new piece.
Okay…. I think I am getting a little worked up…
*breathe*
What I want to leave you with in this post is a few things:
#1 – Through Glass is going to be a kick ass serial and will probably take a few years to get through the whole story.
#2 – I am going to try to get the episodes out every other week. But sometimes life gets in the way and there may be a little bit of lag in between some episodes. Its no biggie – It could be Anna Karenina…
#3 – Serials are nothing new, nor are they a money grab. Get that thought out of your head and support the authors who spend so much time pouring their hearts onto paper. I mean it. Do it or I will send a Tar after you – cuz I can do that.
#4 – You guys are amazing – fer reals. I have an amazing readership and the support you give me is amazing.
Also – if you haven't started Through Glass yet – do it now! The first book is free…
Amazon: http://www.amazon.com/dp/B00GZZ9EC4
Amazon UK: https://www.amazon.co.uk/dp/B00GZZ9EC4
Barnes and Noble: http://www.barnesandnoble.com/noresults?keyword=2940045499620
iTunes: https://itunes.apple.com/us/book/through-glass-episode-one/id781198007?mt=11
Kobo: http://store.kobobooks.com/en-US/ebook/through-glass-episode-one